Protect & Enhance Your Home With New Siding
Siding that is old, worn or storm-damaged can lead to many problems. It can allow the entry of pests and water that can cause foundation problems. Water also weakens your home's insulation, making it less energy-efficient. Replace your siding with the help of Maris Home Improvements, the local siding professionals!
Siding Replacement Service
Maris Home Improvements is a siding replacement specialist, and trained in the best practices to restore your home back to its original condition. Signs of siding damage include:

Rotting or warping.
Cracked or loose siding.
Peeling paint.
Mold or mildew.
High heating and cooling bills.
If you notice any of these symptoms on the siding of your house, call Maris Home Improvements. One of our siding experts will make a visit to your home, assess the damage and prepare a free, no-obligation estimate on Siding Replacement.
Profiles to Suit Your Personal Style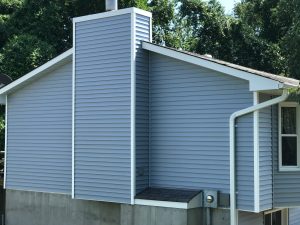 New siding can greatly benefit your home. It better protects from the elements, properly insulates your home, and upgrades your exterior while enhancing curb appeal and increasing your property value. Whether you're looking for a bold pop of color or subtle natural hues to blend in with your neighborhood, we offer dozens of color options and profiles to make your home stand out – for all the right reasons!
Contact the Siding Professionals at Maris Home Improvements
Contact Maris Home Improvements for all of your siding needs. We are siding replacement specialists and our team is highly trained in new siding installation. Discover the dozens of siding options we have for a beautiful new home exterior. Call (636) 778-4343 or fill out our online form to schedule your siding consultation.